Press Row Hangout LIVE tonight 11ET/8PT talking the controversy over VC in NBA 2K14.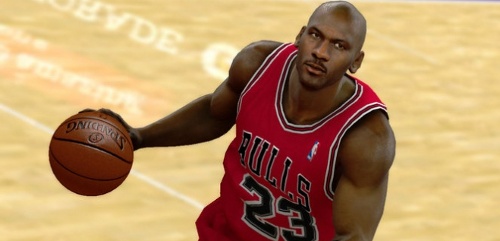 2K Sports has released the list of historic teams included in NBA 2K11 along with a quick teaser trailer featuring the cover athlete Michael Jordan. The list of historic teams may not be final with 2K possibly attempting to add more before the game has to be finalized or post-release as downloadable content. I've also added two full-size Jordan screenshots to the gallery. Continue on to check out the list of teams and the trailer and leave your thoughts in the comments!
Keep in mind that all players from these teams may not be included on the roster. It appears from the one screenshot that there will be some generic players in place of those they didn't get the rights for which would be necessary to use their likenesses.
1985-86 Chicago Bulls
1985-86 Boston Celtics
1989-90 Chicago Bulls
1989-90 Atlanta Hawks
1989-90 Cleveland Cavaliers
1989-90 Detroit Pistons
1990-91 Chicago Bulls
1990-91 Los Angeles Lakers
1991-92 Chicago Bulls
1991-92 Portland Trailblazers
1994-95 Chicago Bulls
1994-95 New York Knicks
1995-96 Chicago Bulls
1995-96 Seattle Supersonics
1996-97 Chicago Bulls
1996-97 Utah Jazz
1997-98 Chicago Bulls
1997-98 Utah Jazz