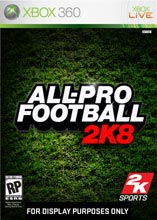 Recently there was a media event for APF 2K8, at which it was expected the first glimpses from the game and heavy details on it would be revealed. Ultimately that didn't materialize, as all that was shown was a very short video displaying a few different plays and a question and answer session that didn't really reveal anything that people are really curious about.
The most interesting omission from all the media site writeups of the event was reaction to the video. No one actually mentioned being impressed with the video, or even just that it was good. Apparently it was far too short and didn't show anything that was noteworthy, as well as the graphics being so mediocre that there was practically no mention of them.
After the overwhelmingly negative reaction to the Game Informer preview, there now seems to be some going back on statements and contradictions. After stating that consumers wouldn't be able to replicate the NFL and to "shut up and play the game" apparently now customization is an important factor in "practically every aspect of the game". Obviously you won't be able to adjust ratings (since there are none) and probably player names. It would be helpful to know exactly what was customizable and to what extent instead of the very generalized statements put out there thus far.
The answers to the questions people need to know are still not available. With no player ratings, how will players be distinguished from one another? If there is no franchise mode (thanks for the bogus reasoning 2K) how do you achieve a goal of "drafting as many legends as you can"? With no franchise, what is going to provide longevity and replay value? The list of things people need to know goes on and on.
If the game is going to release before NCAA Football 08 then things need to kick into gear and soon. Either the promotion for the game is not going to be strong, or the release date is farther out. If it hits stores at the same time or soon after Madden, there really isn't any doubt that the game is going to get buried. For it to have a shot it has to be the first football game out onto the market, or it needs to come out well after Madden. A period like after the Super Bowl would work well for a game that doesn't have to worry about realistic rosters or a particular time frame that it needs to be out for. It doesn't seem that they are shooting for that though as they've stated it will be out this summer.
There is still a lot to learn about the game before it will be known whether or not it is really worth giving a shot. Just knowing the game has a ton of legends and ridiculous stadiums isn't enough.