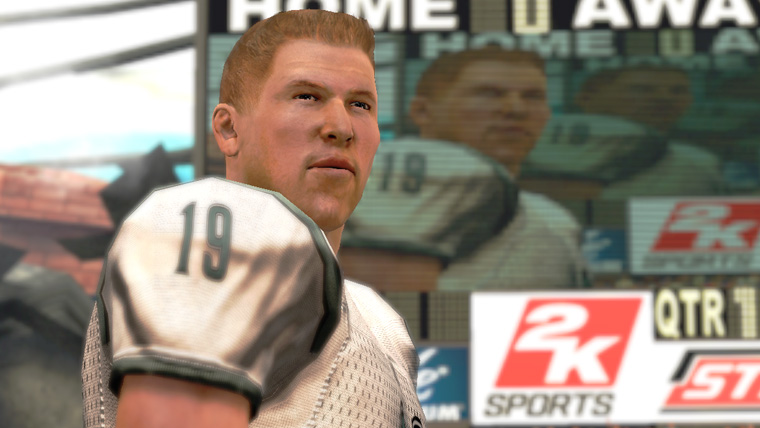 Amongst the barrage of screenshots from today and yesterday, 2K Sports has also revealed the full feature list for the game. You can check it out by clicking below into the full article.
Overall the list of things, especially the customization aspects, sound good. After seeing the success of Forza 2 in that regard, the potential is clearly there to a huge aspect of games in the future. However it is too early to know if the options will be nearly as vast as those in Forza and it seems unlikely to be anywhere near that level of detail.
The most disappointing thing however is not only the lack of a franchise mode, but the lack of anything to take its place other than the single season mode.
LEGENDS – Over 240 NFL legends make their return to the gridiron, including Hall of Famers such as Johnny Unitas, Dick Butkus, Joe Montana, Mike Singletary, Reggie White and Walter Payton.
SIGNATURE STYLE – Legends have their own signature moves in the game – Barry's spin, Walter's scissors kick, Jerry's one-handed grabŃthey're all there.
2K SPORTS LEGACY – For the first time ever 2K Sports, the developers of top selling football games, will bring their critically acclaimed gameplay & graphics to the next generation platforms.
ALL-NEW PLAYER ATTRIBUTE SYSTEM – Gone are the 0-100 ratings so common for players in a simulation game. In APF the players have unique attributes that give them specialized skills. There are over a hundred distinct attributes available.
REACH TACKLE SYSTEM – Revolutionary new tackling scheme utilizes the right analog stick to allow you to make those last grasp tackles and stop a runner in his tracks.
INCREDIBLE CUSTOMIZATION – Build your roster, edit your team logo, uniforms, and choose your own celebrations after touchdowns, sacks and big plays.
CREATE-A-PLAYER – Build any player from the ground up including equipment, uniform and all of his physical attributes.
ADVANCED PLAY CALLING – Modify your playbook, set your coach tendencies, and have the coach call in the plays over a headset.
2K SPORTS ONLINE – Full league and tournament support, league and schedule customization options.
2K BROADCAST STYLE – New presentation style will combine TV broadcast with on field commentary bringing you closer to the action.
2K Broadcasting – A new style combining TV broadcast with on-field commentary to put you closer to the action than ever before.
2K BEATS – The All-Pro Football Soundtrack features originals, remixes and mashups produced by Z-Trip and featuring: Rakim, Dead Prez, Charli 2na, Slug, Aceyalone, Casual, Pep Love, Lateef, Gift of Gab, Keno 1, DJ Faust, Chevelle, Clutch, Dub Trio, Natural Self, Backyard Bangers, Deftones and Rush.