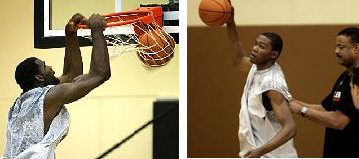 With the NBA Draft coming up on Thursday the 28th, who do you think the Trailblazers should select with the #1 pick? We know Greg Oden and Kevin Durant are going to be chosen with the first two picks by Portland and Seattle. But which guy should the Trailblazers go with?
I'll be live-blogging via twitter from the NBA Draft and should have a bunch of thoughts and pics to post up after as well. Being a Sonics fan it'll be an especially exciting night for me, not to mention I've never attended an event similar to this.
I haven't been able to get any sort of confirmation, but given recent history we may get some screenshots from NBA Live of the draftees in their new uniforms. Also look for the first NBA Live/March Madness commercial to appear during the draft
Reports have the Blazers disappointed with Oden's workout and blown away by Durant's. Any stock in that or are they just playing along?
So who should go #1? Oden or Durant? Vote in the poll below
{democracy:5}