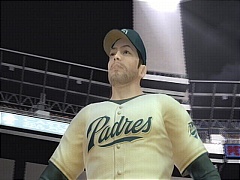 Next up was a series of training mini-games. One was for fielding, in which a ball machine shot at you and you had to make a play on them. Padre caught 9 and missed 2, which was good enough to move on to the one for contact hitting. In this one you had to hit enough fair balls out of 10 pitches and Padre hit 10/10. The final one was for running, in which you had to run through an obstacle course using RT to sprint and A to jump over or slide under. After completing that it was on to the final preseason game.
This game was a 2-1 win for the Padres over the Royals. Brian Giles hit a HR in the 1st inning, but the Royals loaded the bases in the 2nd. An infield single scored a run to tie it up. However in the bottom of the 4th, Padre hit an RBI single to score the go ahead run. Trevor Hoffman came in and shut the door getting a double play and groundout to end the game.
In that I was able to activate "Big Heat" which when you fill your meter full from making big plays you can do that when pitching or when hitting. Here it made Hoffman's fastball go 109 mph and his changeup 59 mph. Doesn't make it impossible to hit, but is much tougher to handle.
After the game a player upgrade was unlocked. Eye black is now in my attitude section.
It was time for the season opener. The Giants came to San Diego. Padre is currently batting 2nd in the lineup. He went 0-3 but made a few really nice plays in the field.
It was a 4-0 victory for the Padres. Check out the video for highlights from the game.