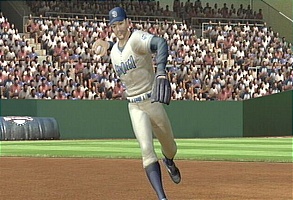 I tried out the HR Pinball which was pretty neat. I'm not sure how much time I'll spend with it but I thought it was one of the better mini-games in a sports title since MVP Baseball. Just wish there was a challenge form of it online.
I like that even in this game there is fatigue for starting pitchers. I figured that they wouldn't even take it into consideration, but you basically want to keep your three man rotation going because the SPs fatigue level is displayed and the previous two that were used are worn down a bit.
So there are a series of "challenges" throughout this mode. The first was to beat the Pirates in a 3 inning game. The Padres won that 1-0 on an Adrian Gonzalez homerun. Padre went 0-1 in that game.
The next was to get a hit in a 5 inning game at Pittsburgh and win the game. Padre ended up going 2-3 with both being singles in a 5-2 win. Adrian Gonzalez had 3 RBIs including a 2 run HR and Khalil Green blasted a 2 run HR into the big screen.
It was then on to stealing a base against the Pirates but Padre isn't ready for that quite yet. So instead the team moved on to attempt and defeat the Nationals in a 5 inning game. This was the first real blowout as San Diego won 8-0. Padre crushed his first HR, a 2 run shot on a power blast. It was neat that the next batter, Gonzalez, was intentionally hit by a pitch. He got his revenge later hitting a solo shot. At one point in the game the Nationals pitcher had lost two of his pitches and had the bases loaded, and it was the first time I saw a pitching change mid-inning.
The last challenge that was completed was making a 9th inning comeback against Washington down 3-2. After a leadoff double by Russell Branyan, a single by Mike Cameron, and a Padre strikeout, Gonzalez once again came through with a 2 RBI double. Trevor Hoffman came in and finished it out.
So far Padre has two stars in Power, Arm, and Glove. He still only has one star in speed and contact.