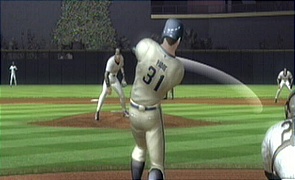 Previously: Part 1 – Part 2 – Part 3
The next challenge was to beat the Nationals in a 5 inning game, in which a victory would bring the opportunity to steal one of their players. Down 2-1 in the top of the 4th, Marcus Giles tied it up with an RBI double, and then Jose Cruz Jr. pinch hit and got a 2 RBI double to push the score to 4-2. However in the bottom of the 4th, Brian Schneider hit a game tying 2 run HR. In the bottom of the 5th, an RBI single scored the winning run for Washington. Padre was 1-3 with a single.
So the Padres went right back again, this time determined for revenge. In the first inning, Adrian Gonzalez hit a 2 run HR and Khalil Greene followed up with a solo HR. Frustrated, the pitcher then hit Josh Bard. In the 2nd inning Mike Cameron got a triple and that is when Padre stepped up and hit a 2 run "Power Blast" HR. An RBI single n the 5th by Green pushed the lead to 6-0. It was an intense face-off as for the first time the "Big Heat" faced off against the "Power Blast" in dual mode. On the first pitch, it was the "Power Blast" that won as Ryan Zimmerman crushed it for a 2 run HR. The final was 6-2, with Padre going 1-3 with the 2 run HR. After the game, San Diego stole Ryan Church and will utilize him in LF.
In the third game of the day, it was San Diego visiting Colorado in a 3 inning game that required an RBI by Padre. That was taken care of quickly in the 1st inning when he hit his first ever non-"Power Blast" homerun to dead center. He added a double in the 3rd inning to give him his best game yet. Adrian Gonzalez also sent a "Power Blast" HR into the screen in LF. The final was 4-0. Check out the video below for highlights of this game.