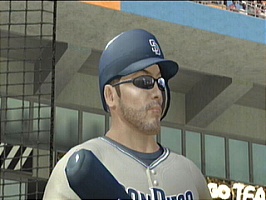 Part 1 – Part 2 – Part 3 – Part 4
The next task was a training mini-game for Distance Hitting. Get as much distance as possible on each of the 10 swings. Padre hit five homeruns, but barely scraped out enough to move on as he fouled a few of the others off.
In a 3 inning game @ the Rockies, Padre was told he needed to get an RBI in a victory. That was accomplished quickly, as he drove in a run off a double in the 1st inning. In the 3rd inning, he hit a Power Blast 2 run HR. For the game he went 2-2, HR, 2B, 3 RBIs. San Diego won 5-0.
In another game against the Rockies, this time 5 innings, a win would bring about an opportunity to steal one of their players. The motivation must've really driven San Diego, as it was the biggest blowout so far in The BIGS, 11-0. In the 3rd inning came four consecutive homeruns (Padre, Gonzalez, Giles, Greene). The team quickly learned that the Rockies CF Taveras was horrible, he made several attempts to rob them but they would bounce off his glove and out of the park. Padre's next at-bat found the Colorado pitcher hitting him, which angered the team. 2 batters later Brian Giles hit his second HR of the night, this one a 3 run Power Blast shot. Padre finished the game 2-3, HR, 2B, 2 RBIs. The team chose OF Matt Holiday as the player to steal. Also Padre was given shades as an option in the attitude section.
Another training game was assigned with this one testing the fielding capabilities of Padre. He did very well, catching 10 while only missing one.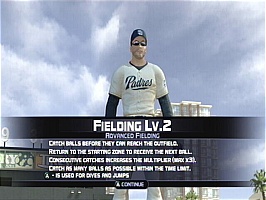 San Diego next traveled to Cincinnati, with a 3 inning game scheduled. The Reds actually won 2-1 with a 2 run walkoff homerun. In the rematch it went to extra innings when Jose Cruz Jr. tied it up with an RBI groundout in the 3rd. The Reds had an opportunity in the 4th when they pulled out a Power Blast, but Scott Linebrink struck him out. In the 5th Brian Giles hit a 2 run Power Blast HR, and Trevor Hoffman closed the game out for the 3-1 victory.
It was then a jump down to Florida for a 7th inning comeback. Down 4-2 in the 7th, one run was recovered quickly on a Padre RBI groundout. It came down to 2 outs in the 9th inning, where Mike Cameron hit the clutch tying homerun. In the 10th Khalil Greene gave the team the lead with a 2 run HR and Hoffman again closed it out.