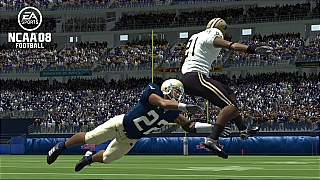 In conjunction with E3 will come the release of numerous demos. Of those that are expected, the most likely sports titles are NCAA Football 08 and All-Pro Football 2K8. If you want a long shot it could be Nascar 08. Updates are below as of 7/12. Also as I've noted before, don't be surprised if one or both are released only for the Xbox 360 and not for the PS3.
NCAA Football 08: Demo has been released on the 360 Marketplace.
All-Pro Football 2K8: Demo is expected "within the next couple weeks". I suppose this is similar to how The BIGS was said to have its demo out during its week of release (June 26th). That demo finally made its way out on July 13th.
Nascar 08: Set to come out July 24th, this is the other sports title that would make sense timing wise to release a demo. There has been no news on it one way or the other however.