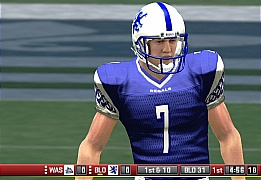 Today Jeff Thomas of 2K Sports commented on the topic of the demo for All-Pro Football 2K8 by saying that it would be coming "within the next couple weeks".
This is unfortunate as the game is already fighting an uphill battle being the second football game released on the same day going up against NCAA Football 08. The demo for NCAA came out earlier this week.
Not presenting consumers with an opportunity to try the game out could be costly. NCAA Football is a popular title and a traditional purchase for many. As APF is basically an unknown commodity, a demo would've given them a chance to try the game out and possibly get hooked on it.
It seems unlikely that anyone who is set on getting this game would've changed their mind after playing the demo. However those who are on the fence or know little about it could potentially have been sold on it. It would've concentrated on gameplay, and issues such as lack of franchise mode wouldn't have factored in. It seemed like the ideal situation for a demo as it could show off what has been said to be the strength of the game while giving it more exposure.
When you look at the time frame of "weeks", it starts to creep into Madden 08 territory. Not only will it get little to no attention because of that, but it will have to contend with the inevitable Madden demo. Then not only is it facing being potentially the second football purchase, but it becomes the third. It would be asking a lot for people to make it the $120th or $180th dollar they've spent on football games within days or weeks. Especially if they haven't had the chance to try it out and see if it was worth it.
The BIGS, which is a fantastic game that would benefit greatly from a demo, is still MIA despite 2K saying that it would be out during the game's release week. So now a demo for APF is not necessarily a "when" but possibly an "if". And come that time, it may not matter anyway.