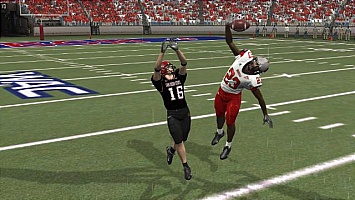 Alright so I was out most of the day today. I made sure to get the 4th installment of the Campus Legend series up before I left. Now that I'm settling back in, here is what you have to look forward to.
Campus Legend updates: Working towards getting part 5 up late tonight. Goal is to have parts 6 and 7 on Monday. These will continue beyond release, just not at the same pace I'm rolling them out at now. Eventually Padre will be moved to Madden's Superstar mode. So you'll want to follow along to have all the history of his career when that begins. To find them: Part 1 – Part 2 – Part 3 – Part 4
Answering questions: Will try to knock some of these out tonight or on Monday morning. Comment on this article so that I can have them all in order and in one place.
Screenshot/video requests: Keep leaving your comments if you would like some. The screens are relatively easy for me to grab, download off the easportsworld website, then upload back up on to my site. Videos are more time consuming, I'll probably just be doing the video clips that I can pull off easportsworld. So if you have a particular player or type of play you want to see, make sure to specify that. Comment on this article so that I can have them all in order and in one place.
Impressions: I still have yet to sit and actually just play the game. So I don't have much to add regarding general gameplay. Hopefully I'll get a chance to get some time in tomorrow and post new impressions. Until then you can get a feel for Campus Legend through my reports, and I'll also be doing an online play write-up on Monday or Tuesday.
Other NCAA related postings: Camera angle from every Campus Legend position. EASportsWorld.com site launches.