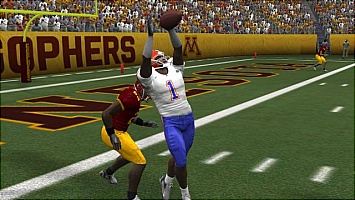 Grab the most impressive/exciting/unique play you can and submit it for this highlight clip contest!
Using the new video highlight feature in NCAA Football 08 on the 360 and PS3 people are able to upload clips from their games to the EA Sports World website for everyone to check out.
There are two options for submitting your highlight to qualify for this contest. Both involve sending me the info via my contact page.
The first way to do it is to send me the direct link to your video page on the EA Sports World site. If you do this you must send me the correct URL, as well as details on what clip it is. I would need more than saying "the 2nd one". Specify the two teams, the score, the quarter, ect. Also a brief recap of what happens in it so I know I'm grabbing the right one.
The other option is showing it off via Brightcove. Because the clips are deleted off EA Sports World when new ones are added, and since there are no direct links to individual clips, this is a good way to do it. In order to set up your video clip, you must first upload it to the EA Sports World website from the game. From there you can download it to your computer. If you rename it you need to make sure that it ends in .flv -Then you upload it to your Brightcove account (which is free to set up). From there you'll be able to grab the direct link and use the contact form to send that to me.
From all the entries sent to me I will be selecting what I feel to be the five best. From there it will be opened up to everyone to watch those five and vote on their favorite to determine the winner.
The deadline for submitting videos will be Sunday night 7/22 at 8pm PT. Voting will begin on Monday the 23rd and will run through Wednesday night the 25th at 11pm PT. Only one entry per person will be accepted. Please make sure that the email address entered in to the contact form is valid as I will need to contact the winner to get the information needed for shipping the prize out.
The winner will receive their choice of Def Jam Icon for the Xbox 360 or NBA Street Homecourt for the PS3. Good luck and I'm looking forward to seeing what everyone sends in!