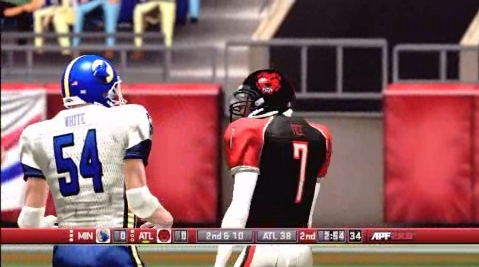 Only two days after releasing a controversial trailer making light of the accused murders committed by OJ Simpson, now Gametrailers has come out with a new trailer for All-Pro Football 2K8 capitalizing on the another sensitive issue. Apparently having decided to do a series of distasteful trailers, now they are taking advantage of the Michael Vick indictment. What makes it even more bizarre is the use of an NFL likeness in a trailer for an unlicensed game.
GT created a version of Michael Vick in All-Pro Football and placed him on a team from Atlanta and with the name the "Red Dogs", called the trailer "Taken to the Pound Gameplay" and describes it as "Michael Vick takes the defense to the pound as he unleashes his skills on the field."
2K needs to step in and immediately stop this shameful promotion of their product by having them remove both videos and telling them to cease making these type of trailers using their game. I think its pretty obvious that 2K was not involved in the making of or signed off on the idea of these, they have to be completely the doing of Gametrailers. Even without 2K involved in the production, they'll deserve criticism if they don't do anything about them.
What is the deal at Gametrailers creating these? Are they just trying to stir up controversy? There can't be any other reason because 2K has attempted to stay away from anything to do with the NFL. Yet GT comes out with this Vick video now which not only has relation to the NFL but also has the potential to offend many. Current NFL players including Vick are not in this game, yet they feature an All-Pro Football trailer around him?
This is ridiculous. Its like they looked at what Vick has been involved in; the fighting, torture, and killing of innocent animals and thought that would make for a good basis for an APF trailer?
I can't imagine the NFL will appreciate not only having an actual player from the league being used in a promotional video, but having it be Michael Vick at this point in time given the circumstances.
Hopefully 2K takes action and does the right thing here. APF's gameplay is good enough to stand on its own. These trailers not only threaten to overshadow that but it begins to make the game look like a joke.