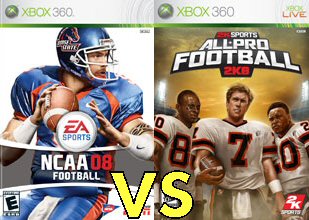 Last week brought the release of two anticipated football titles in NCAA Football 08 and All-Pro Football 2K8. I figured it would be helpful to go through the different aspects of the games and give my thoughts on which has the advantage in each area. Anyone who is trying to decide between the two can view this as somewhat of a guide. Both of these games are generally regarded as companion titles to Madden 08 so for many it may be difficult to justify purchasing both. Continue on to read my full analysis.

Gameplay: PUSH (APF: Offense & Special Teams, NCAA: Defense)
Gameplay will always be a subjective topic so this is only my personal breakdown. APF offers full control over type of throws in the passing game and great blocking (both in the running game and the forming of a pocket). You can actually run play action in the game without getting sacked. Manual defense in NCAA is much better because of the heavy momentum and feeling of a lack of player responsiveness in APF. The new kicking mechanism in APF is a big leap forward in that area and is really well done.
Modes: NCAA Football 08
This is a no-doubter. NCAA gives the standard Play Now, Practice, and Online modes but also has the rich Dynasty mode and the very fun Campus Legend mode. APF only has the standard modes and a basic season mode. NCAA is practically 3 games wrapped into one if you're comparing it to APF.
Graphics: NCAA Football 08
I give the edge here to NCAA. The graphics in APF are decent enough to avoid hurting the overall experience though.
Online Play: All-Pro Football 2K8
This is the big win here for APF. Not everything is perfect such as auto-strafe being forced ON in ranked matches, the games going by too quickly, and the league websites having finally launched last night are of course glitchy. The most important thing is the game runs without any trace of lag. Having customized teams brought online offers a unique experience in both lineups and uniforms. Meanwhile NCAA offers a laggy, frustrating and inconsistent experience both while playing on the field as well as when selecting plays and attempting to change depth charts.
Freshness: All-Pro Football 2K8
I didn't originally intend to have this as a category but I think it is a big enough factor to address. The legends and strategy behind shaping your teams, customization of playbooks and uniforms, and the use of them in online play are all welcome additions. NCAA does present the upgrade to 60fps (on the 360), the video/screenshot feature is great, and the Campus Legend mode is finally worthwhile. Of course being gone for a few years has helped out 2K's title in this regard. But that doesn't negate it as something to consider.
Extras: NCAA Football 08
NCAA's use of the Weather Channel to present real-time weather for games is awesome. Too bad it's only utilized in Play Now games. The video clip and picture uploading feature is a fantastic addition to the game. I've probably spent more time working on things related to that then I have spent playing the actual game. NCAA Football has a demo on the 360 Marketplace and APF doesn't. APF doesn't really have any extras to speak of.
These games excel and fall short in different areas. Gameplay is going to be subjective and both at the very least are solid. If you are looking for longevity from offline play then NCAA would be the game to go with. If you enjoy online play the clear choice is All-Pro Football. If you are looking for satisfaction from both, unfortunately you'll need to combine them to get that full experience.