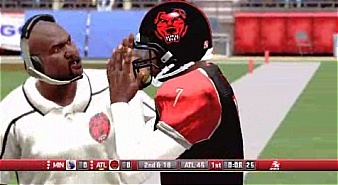 A few days ago I wrote about how surprised I was to not only see another questionable video produced by GameTrailers, but also that an NFL player was being used to promote an unlicensed game. You can read up on it here.
Michael Vick has no relation to APF as he is not in the game and the attempt to capatalize on the current controversy is shameful regardless. Seeing Vick in a trailer for APF could potentially confuse consumers. Going further than that there is the consideration that the NFL could take some sort of legal action to protect their license.
I talked with Priya Ganapati at The Street to give some background into the situation as well as my thoughts on the topic and I am quoted in the article. After previously writing about the OJ Simpson trailer she now takes a look the Vick version. You can read it in full here.