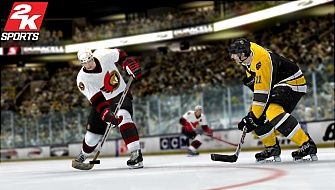 2K Sports has released some more info on the upcoming NHL 2K8 detailing two new features. The "ProStick" and a new face-off system. They also released a few new screens featuring the cover athlete Jason Spezza.
The new ProStick gives players precision puck handling movements and all new controls intuitively mapped to the right thumb stick while the groundbreaking face-off system brings an unmatched level of depth and strategy with every drop of the puck.

"The ProStick and face-off system work hand-in-hand to bring a new level of control to hockey video games," said Graeme Bayless, President of Kush Games, a 2K Sports studio. "With these two features, we feel NHL 2K8 offers a fresh gameplay experience that will appeal to gamers new to the series as well as our loyal fans."

Stick movement and commands are tied directly to the right analogue stick, giving gamers authentic control and puck handling ability. Hundreds of new animations give users a full range of movement, creating a genuine NHL gameplay experience on both offense and defense.
Click the thumbnails to view the full size images.