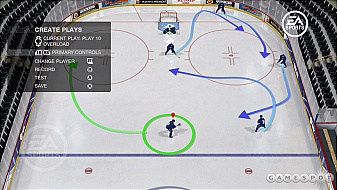 Gamespot has previewed the new Create-a-Play feature that is being introduced in EA Sports NHL 08. There is also a brand new video that that spotlights the Create-a-Play as well as the On-the-Fly AI.
With the upcoming create-a-play feature in NHL 08, EA Sports is looking to inject a new dose of tactics to the on-ice action. How will the ability to create plays change the way you attack your opponents? We've got the answers in our most recent look at the game.
The Create-a-Play feature is far too intricate for me to summarize so I'd recommend reading the full article here. It goes into great detail on how it will work and some of the strategical aspects that come from it.
I'll be the first to admit I wouldn't have a clue how to construct a hockey play. For the hardcore fans of the sport though this is likely to be an exciting and entertaining addition to the game. It should continue the push towards realism all the while adding a form of customization which is an element that has proven to be successful as of late in other games.
Continue through to view the video.