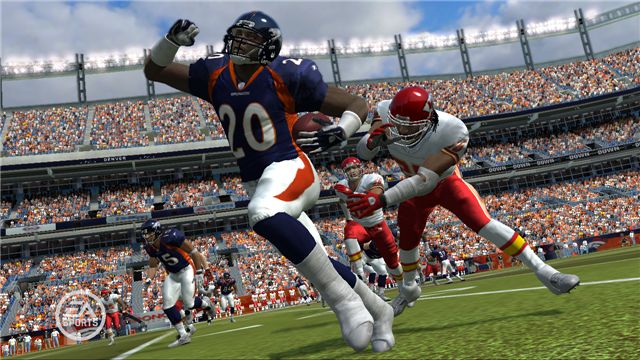 My laptop isn't picking up the internet connection for some reason at the hotel, so this is being posted from the business center. Therefore I am not able to upload the pictures and videos I took from today. Cowboys fans wondering what their alternate jerseys look like will be especially interested. I will do so when I get to the airport or when I get home. I have my copy of Madden 08 in hand and will be starting to roll out a lot after I get home. So look for that all to begin late Friday night.
As I mentioned previously, my concentration while at this event was on general gameplay since I would be more effective going through the other aspects of the game at home. So here is what I have to say about my experience with the game thus far.
Overall I feel that most people are going to be at the very least satisfied if not thrilled with how well the game turned out. Although not perfect, I think it is safe to say it is one of if not the best sports game released on the 360/PS3 to date.
The game is very fun, and that is something that shouldn't be overlooked (even though I'll go on to list out different frustrations of mine). It runs very fluidly and the graphics are great. The controls are very responsive and tighter than NCAA Football 08's. It is an adjusment going from playing that game to this one.
There are so many "wow" moments. You see new things each time playing. In every game there were several occurances that drew strong reactions from whoever was watching at the time. That is something that has been sorely lacking for a long while and it made for a really fun experience.
The biggest surprise for me was how much better the gang tackling is in Madden vs NCAA Football. There is a signficant difference between the two games in that respect. It was one of the first things I noticed because it has a huge effect on the game.
I preferred All-Pro difficulty over All-Madden. It felt more wide open and enjoyable, but without completely sacrificing the AI. There is more the feeling of "anything can happen" when on that difficulty, although there is still a sense of it on All-Madden. AM is very tough especially to throw on, and in some areas such as blocking I felt it actually presented a downgrade.
There is more of a difference between teams than ever before. That is due in part to the weapons and ratings but also the styles really come through. The good teams are that much better than the poor teams. Good luck beating the Chargers with anyone but a top-tier team. Good luck moving the ball on the Ravens with a weak offensive team.
There has been some improvements to presentation. After big plays there is a newly designed auto-replay display. Also there are halftime and post-game highlights. It grabs the five plays it deems were the most important and you can choose to watch them.
Kicking is still over-powered, if not even more so than in the past. Last year it was kickoffs going 8 yards deep into the endzone consistently. This year it's kickoffs going out the back of the endzone consistently. This only happens vs other users. The CPU kickoffs seem to end up closer to the goal line.
The pass defense has taken a leap forward. It is very difficult to pass consistently, and more passes are intercepted than ever before. You won't see many of the throws from years past that hit defenders and dropped to the ground. Those are picked off now. So there were many more turnovers in each game than in the past. Some people may feel there are too many, while others will feel it is now more realistic. Personally I always felt it was ridiculous that so many potential INTs were dropped. Put the responsibility on the QB to make good throws and don't let them get away with poor ones. People will have to adjust to this because I have a feeling at first they're going to be somewhat frustrated with the number of INTs they throw.
Moving on to fumbles, there are a lot of them. This is another thing I expect to see people talking about. This is a little more out of your control and something that I felt was happening too often. I played a game in the rain that had 8 fumbles (although 2 were reversed). In normal games I'd say the average was probably 4. Shaun Alexander fumbled on the first run of the first two games I played.
Another thing that I felt was happening too frequently were injuries. Now, some of the injuries sent the players to the sideline for only a few plays, but the sight of the injury screen coming up so often made them feel more significant. However there were many injuries that were more serious including losing players for the entire game. The problem was that you could pretty much count on your QB and RB to get injured at least once if not more in every game. Of course they are involved in impacts more than some other positions, but they're also usually the biggest names and critical to a team's success.
I did get frustrated (especially on All-Madden) with the lack of offensive line protection. I wasn't having any time to scan the field and attempting play-action was futile. This is something that has really bothered me over the years and still does. There is nothing worse than getting sacked before your QB can complete a play fake. I also noticed a lot of the guys pulling out of the pocket early and trying to get out to open space. This seemed to be the more effective way to pass as there wasn't much confidence in the pocket. This topic in general seemed to be more of a frustration to me than everyone else though.
Went in to spend a few minutes creating a stadium and designing uniforms. The stadium creator is pretty nice although it's somewhat limited in the options you have. The uniforms had more options and seemed like most would find it sufficient.
I started up a Superstar mode with a 6'11" QB that wore an odd variety of equipment. He ended up being rated a 37, drafted by and starting for the Vikings. I played the first regular season game and went 11-27-90 with 6 INTs and several of them returned for TD. His 8 strength made things especially difficult as the ball had no zip on it. The camera angle was slightly different than Campus Legend's. I'll grab screenshots from all the positions in Superstar just as I did for Campus Legend on Friday night or Saturday. The influence points at the start of each drive returns from last year, something I have a dislike for. In the mode you can work towards gaining weapons. So there are a few differences when compared to NCAA's Campus Legend.
A while back I presented my Madden Power Rankings. I feel those are pretty well justified after today's events. The final four in our tournament consisted of guys using the Ravens, Broncos, Patriots, and Chargers. The Broncos may actually be the best overall team, it is practically impossible to throw on them. I just stopped trying because it wasn't worth the risk.
I'm sure there are other things I will remember that I didn't post up and I'll add them as I can. I'll be traveling back during the day and will get the Madden content flowing on late Friday night so make sure to check back for that to begin. The first things will likely be the move for Padre from Campus Legend to Superstar and more analysis of online play. Until then feel free to leave a comment if there are any topics you're wondering if I have an opinion on and you can also do so in the forums.