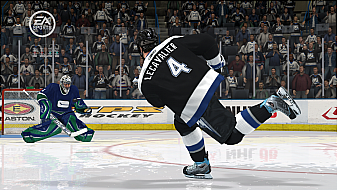 One of the biggest selling points for NHL 08 this year was the move to 60fps. Until now it was unknown whether the PS3 would also be running at 60fps, or if it would be like the football titles released this year (Madden, NCAA, All-Pro) that ran at 30fps on the PS3.
News has come in that the PS3 version of NHL 08 will run at 30fps while the 360 runs at its 60fps. It had begun to appear this would be the case as EA hadn't stated that the PS3 would be at 60fps. Surely if it was they would've made that information well known.
It has been widely noted the significant difference between how well the 360 and PS3 versions of the football games played due to the frames per second discrepancy. In this case, the NHL game is generally in constant motion and fast paced. Having a smooth consistent experience may be even more critical to how enjoyable an NHL game is than an NFL one.
This may be the last case of this happening with EA Sports titles. NBA Live 08 which releases three weeks after NHL is confirmed to run at 60fps on both the 360 and PS3.