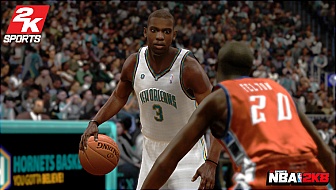 NBA 2K8 recently saw the release of the first information on improvements with the Association mode. This was accompanied by three gameplay videos and a handful of new screenshots.
Click through to view the videos and important details from the Association mode preview.
Association mode preview. Summarized below.
Each player is assigned one of four different personality types. Neutral, Laid Back, Expressive, or Unpredictable. The mix of personalities that make up a team will affect team chemistry, morale, and ultimately how successful they can be.

Players have their role on the team defined from one of five categories and then within each a sub-role. The main roles are Starter, 6th Man, Role Player, Prospect, and Bench Warmer.

When attempting to sign free agents you can negotiate using no-trade clauses and their role/sub-role.

Age factors into signings. Younger players may go for the big payday, but veterans may be willing to take less money or playing time to be part of a contender.

Negotiations with free agents may last days or weeks.

Training camp offers over 12 different regiments to work towards increasing a player's skills.