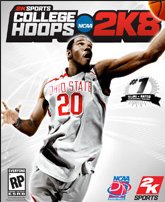 The news that Greg Oden, the #1 pick in the draft by the Portland Trailblazers, will miss the entire season due to a knee injury brings up an interesting question. Oden is the cover athlete for College Hoops 2K8. With the tentative release date of November 5th, would it be too late for 2K to change the cover? And would they even want to if they could?
Back when it was announced on June 27th, Oden was the obvious choice to represent College Hoops. Kevin Durant had already been snagged by EA for March Madness 08. Oden along with Durant were on a level above any other players in the draft in terms of talent and recognition with the public.

Surely 2K would prefer to have an active player on the cover. It will be somewhat awkward to have Oden out promoting the game when he isn't playing in the NBA this year and possibly for some time even into the following season. Where Kevin Durant will be mentioned almost nightly on ESPN, Oden will be out of the minds of basketball fans during the season. At least it is an NCAA basketball game which he can still represent as his collegiate career is complete and comes fresh off the National Championship appearance. It does hurt though to not have him in the NBA spotlight.
There is about seven weeks until release which seems like a lot of time. When you consider things such as their marketing plan, promotional materials and loading screens in the game it is probably too late to do any sort of complete switchover to another player. Not to mention the costs incurred by signing another player to a contract.
As to how he will be dealt with in the NBA games, it's certain that he'll be on the original rosters as those generally lock in about a month and a half prior to the release date. Whether a roster update will remove or disable him is uncertain although seems likely at some point.
I don't believe there has ever been an injury or off the field situation this long before the release of a game that impacted a player set for a cover. Despite this, it would seem unlikely that 2K will make any sort of move due to this news and they'll continue on with College Hoops 2K8 being represented by Oden.