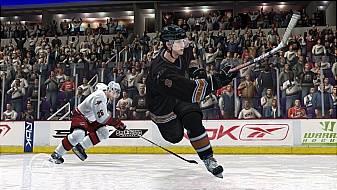 EA has released the following statement to update on certain issues that have arisen since the release of NHL 08. Specifically the disconnects that occur before the start of online games and the tracking of losses in Dynasty mode.
The NHL game development team have diagnosed a problem with online user disconnects while trying to connect to a percentage of Online Team Play, Versus, and Online Shootout game modes. EA will be working to deliver a solution to this problem and will communicate this to our online community as soon as we can. We realize this is a huge inconvenience as online play is a big part of the game. Please be assured that we are working on a patch as quickly as possible. In the meantime, if you find that you are disconnected from the server while entering an online game mode, we recommend that you reset your hardware before attempting to enter another online game mode to increase your chances of success. We are also aware of an issue how losses are tracked in Dynasty Mode. We are working towards addressing this issue as well.
The online play with NHL 08 has represented a positive push forward. The disconnect issue hasn't been as widespread of a problem as those recently faced by the NCAA Football, Nascar, Tiger Woods, and Madden releases. Outside of that the online performance and options outshine all previous releases from EA.
What is most encouraging is how they have actively sought out feedback on NHL 08's online performance and been genuinely concerned and active in attempting to provide the experience that people expect. The level of communication and news of a patch is a great development.