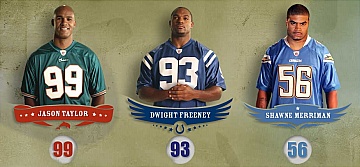 EA Sports has announced that the cover athlete for the upcoming NFL Tour will be determined through a voting process. The three candidates are Shawne Merriman of the San Diego Chargers, Jason Taylor of the Miami Dolphins, and Dwight Freeney of the Indianapolis Colts.
Personally I support Jason Taylor for the cover. After the incredible season he had he deserves the recognition. However I suspect Merriman will come away as the winner.
Who should it be? Visit the official website for NFL Tour to make your choice!