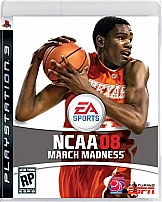 I found these images buried in a recent asset CD that I received from EA in preparation for the NBA Live 08 release. They obviously weren't intended to be included on the disc but since they were I feel at liberty to display them on the site.
They are in relation to March Madness 08 which makes these screens the first to be revealed from the game. They appear to be detailing improvements made to the uniforms, player models, and t-shirts.
Click the thumbnails below to view the screenshots full size.