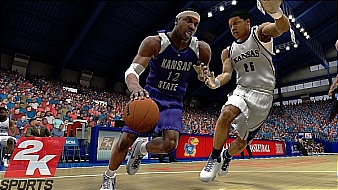 Details on new features for College Hoops 2K8 came out today as well as the first nine screens from the game.
All American Training Challenge: The All-American Training Challenge which will pit players against former college basketball standouts in a variety of passing, shooting and defensive challenges. Gamers will also be able to challenge up to three of their friends to see who really owns the court.

6th Man Advantage: The 6th Man Advantage adds a new gameplay element that allows gamers to tap into the crowd's energy to benefit their team. As you succeed further in exciting the crowd the 6th Man gauge will increase until it finally peaks and your team feels the benefits of reduced fatigue while your opponents gradually lose confidence.
I've always been a big proponent of realistic atmosphere and having an advantage to playing at home. They are important elements of college basketball. As always a feature such as the 6th Man Advantage will depend on how well it is balanced and how realistically it is portrayed within the gameplay.
Click the thumbnails below to view the full size images.