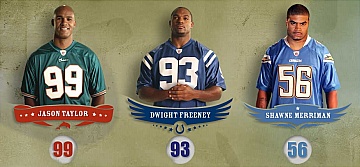 According to the NFL Tour website the voting has been closed and the player who won the honor of being on the cover will be unveiled on Thursday October 11th. It is possible though that it could be announced prior to then.
Going in Shawne Merriman appeared to be the favorite to win. That has been somewhat reinforced by pastapadre.com vistors who participated in the poll here over the last few days. Merriman came out on top collecting 38% of the votes while Jason Taylor came in second with 33% and Dwight Freeney followed with 28%. Not a landslide by any means, but it is another indication that Merriman seems to be the likely winner.
As soon as the official announcement is made I will post it up along with initial reaction.