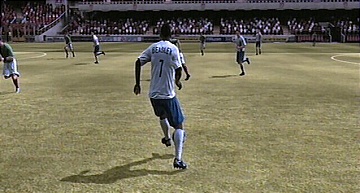 I've been able to spend a little time with FIFA 08 in order to collect some impressions along with recording an entire game from the new Be A Pro mode.
For an in-depth look at FIFA 08 I'd highly recommend you check out the article posted by Shawn at 5w-g by clicking here.
A couple quick notes regarding online play. All the games I played have been completely lag-free with a constant frame rate so that was good to see. Interestingly there is no indicator shown above the player that your opponent is controlling which seemed to make me concentrate more on playing the game naturally instead of trying to exploit or avoid a user controlled player. The five vs five online play coming next month should be a lot of fun. Unfortunately it doesn't appear that you can save any replays or screenshots following the completion of an online game.
The EA Sports World aspect of uploading the highlight clips is currently not working. The message "EA Sports World Football website is currently unavailable" is given. I have contacted EA in regards to this. They are aware of the problem and are working to get it functioning. Hopefully that gets going soon because it's frustrating that the EA Sports World website would be preventing an advertised feature for yet another game from being used.
I really like the Be a Pro mode, which didn't come as much of a surprise to me since Superstar in Madden and Campus Legend in NCAA Football are my preferred offline modes. The camera works really well for it, drawing back when out of the action and zooming in when involved in it. This mode requires a little more patience because there will be that downtime, however when you get the ball or make a play it is that much more rewarding because of it. In the game video you'll see an opportunity I had in the 2nd half off a goalie deflection which was the most exciting moment I've experienced thus far with FIFA. I also like the performance indicator and how it penalizes you for making mistakes and even for simply being out of position.
Continue on to view the videos.
Click the image thumbnails to view them full size. The screens show tips for Be a Pro mode and following the videos shows my player's performance recap for the game.