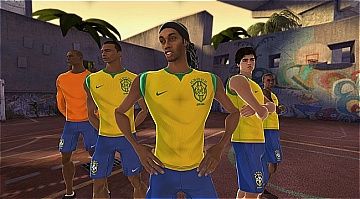 Today brought the release of the first details on, screenshots, and official trailer for FIFA Street 3. The game, which is due out sometime in Spring, will be making the jump to the 360 and PS3.
The third chapter in the FIFA Street series creates a fast-paced and larger-than-life arcade football experience for the Xbox 360™ video game and entertainment system and PLAYSTATION®3 computer entertainment system. FIFA Street 3 creates a hyper-real world that merges the game's biggest stars with environments that pulsate to the music in exotic locales around the world.

Featuring over 250 of the world's best players representing 18 of the top international teams, each player has been rendered into a stylized caricature with heroic qualities. Decked out in authentic training kits, every player boasts their own, distinctive style of play with unique abilities to match. Whether you're after brawn, brains, silky skills or crunching tackles to complete your team, the perfect street player is out there. Choose from Tricksters, Enforcers, Playmakers and Finishers to give you different options on the ball and make your mark on the street.

Using the same engine as the critically acclaimed NBA STREET Homecourt basketball arcade game, combined with the market-leading AI from FIFA 08, FIFA Street 3 delivers animations and ball control that enables you to take complete control of your players with a responsive and intuitive control system that makes it easier than ever to pull off sensational moves. Use the simple button configuration and analog stick to seamlessly combine moves – providing you with hundreds of different ways to show off your street skills. Fill up your all-new Game Breaker to power your ultimate abilities and express yourself like never before. Maneuver your players to leap past defenders, flip off walls, or perform gravity-defying one-timers to score spectacular goals.
I never played the first two FIFA Street games and from what I've read I don't think I really missed out on much. I still think that there is always potential for a game such as this to be fun as some fans of the sport as well as general sports gamers may not have interest playing as methodically as the regular simulation FIFA games require.
Check out the screens in the gallery and continue on to view the trailer which features a solo Ronaldinho performing tricks.