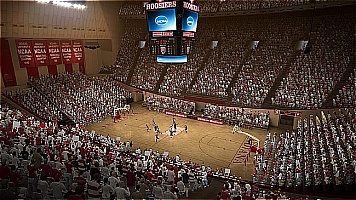 EA has revealed the top 25 rated teams for March Madness 08 as well as given information on the upcoming release of a demo.
The demo, which will be available for both the 360 and PS3, will come out in November. It will feature #6 Louisville vs #8 Kentucky. (November 19th is the day)
EA SPORTS today named the University of Memphis Tigers, an NCAA Tournament Elite Eight finisher a year ago, the top rated team in NCAA March Madness 08. EA SPORTS named the Tigers No. 1 based on a computer-generated preseason poll from the NCAA March Madness 08 game engine that ranked the Tigers as the top team in NCAA Division I men's basketball, followed by UCLA (2), Georgetown (3), North Carolina (4) and Kansas (5).

This year the development team at EA SPORTS worked with ESPN college basketball analyst Doug Gottlieb, research staff at ESPN and college basketball coaches across the country to determine detailed ratings for every team in the game in order to create accurate ratings that deliver an authentic experience while playing NCAA March Madness 08.
Continue on to view the top 25 list.

1. Memphis
2. UCLA
3. Georgetown
4. North Carolina
5. Kansas
6. Louisville
7. Tennessee
8. Kentucky
9. Indiana
10. Washington State
11. Michigan State
12. Texas A&M
13. Gonzaga
14. Arkansas
15. USC
16. Duke
17. Arizona
18. Kansas State
19. Washington
20. Stanford
21. Davidson
22. Clemson
23. Marquette
24. Mississippi State
25. Texas