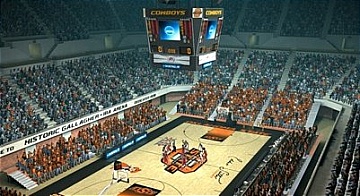 IGN has posted up an official trailer for March Madness 08 as well as a producer blog featuring Sean O'Brien.
In the blog he goes over in detail some the new features for this year. He covers the Dynamic Post Play, classic teams, atmosphere/commentary. You can check it out here.
There were a couple interesting pieces of info revealed in the blog. The demo will be released on November 19th for the 360 and PS3. Surely not a coincidence, that is the day before rival College Hoops 2K8 is out. Also he mentions the game's release date as being Tuesday December 11th. Before now all statements and promos stated it as coming one week later on the 18th. I'll see if I can find out if there has been a change to the release date or if that was just an error.
Continue on to view the trailer