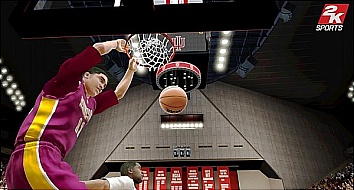 Gamespot has a hands-on of College Hoops 2K8 Legacy Mode which you can check out here. Also a few new features for have been revealed.
New to this year's edition of the 2K Sports' College Hoops series is PlayVision, allowing gamers to execute every play on the court to perfection. PlayVision draws out each play step-by-step, detailing where on the court to pass, move, and watch for a screen. Each step of the play is illustrated with a different graphic, making plays easy to execute with accuracy and precision. PlayVision also works when playing with two or more people on the same team by indicating where the gamers need to set up their players to execute the play.

"Among many other exciting new features this year, we focused on making plays easier to execute while also adding the ability to create your own types of plays. PlayVision and Play Designer work hand-in-hand to allow gamers to learn the fundamental movements of basketball plays and in turn enable users to get a much more realistic college basketball experience," said Greg Thomas, President of Visual Concepts, a 2K Sports studio.

With the all new Play Designer, gamers can create their own plays from beginning to end and customize their playbook. Gamers can determine where their players begin a play, tell each player what to do using numerous moves, and then bring in various types of defenses to test their plays against. Once created in Play Designer, any play can be executed during a game and seen on the court with PlayVision.
---
I have added 10 new March Madness 08 screenshots in the gallery. Here is the full feature list for the game which was just released:
Dynamic Post Control: For the first time, you have complete control over dozens of new offensive post moves, including finesse ones like an up-and-under, drop step, hook spin, jump hook, and pump fake, and the ability to combine moves together. Animations can be interrupted at any time to transition into a new move, enabling you to read and respond to the defense, just like real life.
Defend The Post: Take command of the post on defense with strategic positioning to dominate down low — guard your opponent man-to-man, front him to deny the entry pass, or read the offense and go for the steal!
Classic Teams: Replay classic games in college basketball history with over 70 classic teams available to create your dream match-ups. In addition, the ultimate teams for dozens of Division I schools have been created enabling you to determine the best team in college basketball history
Feel the Intensity: Feel the crowd come alive and watch as it affects your players' composure in the most hostile environments in college basketball. Your players respond differently based on their individual player composure ratings, influencing their success or failure on the court.
Impact Moment: When the timing is right and the Team Intensity Meter is full, activate your Impact Moment to pump up the home crowd, give your teammates a boost, raise your own level of play or intimidate your opponent.
Authentic College Atmosphere: Experience the electricity of game night with the band playing fight songs and students cheering their team. With new authentic arenas and interactive environments, your players can chest bump the mascot, pump up the crowd, or fire up teammates.
Broadcast Team: ESPN sideline reporter Erin Andrews makes her videogame debut joining Dick Vitale and Brad Nessler to provide strategic observations throughout the course of each game and real-time injury updates.
Complete ESPN Access: Feel the total ESPN experience with new ESPN in-game visuals, access to scores, news, and insightful commentary with ESPN Motion, ESPN Radio, ESPN.com and ESPN Sports Ticker updates.
Enhanced EA SPORTS Lockdown Stick: Get in your opponent's face using the EA SPORTS Lockdown Stick. Pressure your opponent and dictate his every move by playing physical on-the-ball defense, trapping, forcing turnovers, denying passes and jumping into passing lanes.
Floor General Playcalling: With the most sophisticated play calling system and authentic customizable playbooks to date, you can run your school's actual plays or create your own playbook to play to your own style.
Build your "School Pride": Build your program from a mid-major to a powerhouse. Win games to attract more fans, build traditions and earn rewards like cheerleaders and a school band at home games.
Deeper Dynasty Mode: Simulate your games with the ability to interrupt the action at any point and take control to make sure your team seals the victory. Plus, there is more tournament content than ever before with Pre and Post season NIT and the McDonald's High School All American game. All-new recruiting and alumni challenges help you track your progress and achievements on your way building an NCAA Championship program.