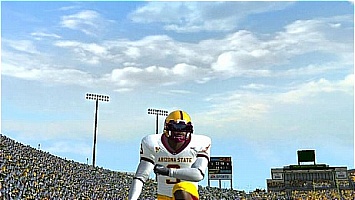 From here on through the bowl season I'll be featuring one game a week using NCAA Football 08. The game will be played through and include the summary and statistics along with game highlights via clips and screenshots through EA Sports World.
This week the #4 Arizona State Sun Devils (8-0) head to Autzen Stadium to face the #5 Oregon Ducks (7-1). Oregon is favored by 7 1/2 points. The winner will position themselves at the top of the Pac-10 and keep their National Championship hopes alive.
Continue on for the full game summary and highlights!
First Half
The game opened with both teams picking up only one first down on their opening drives. On Oregon's second possession, QB Dennis Dixon made an amazing 58 yard TD run to put the Ducks up early in the game. However the kicker #85 Matt Evensen would miss the extra point in what started off a catastrophic day for him.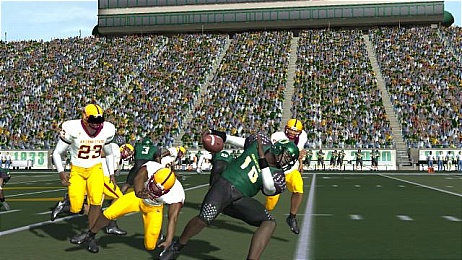 After a long drive for ASU they weren't able to punch it in the end zone and settled for a 21 yard FG to make the game 6-3.
On the ensuing possession, Oregon RB #28 Jonathan Stewart fumbled the ball and ASU recovered, converting that into another FG, this one from 41 yards out to tie up the game 6-6.
On the next drive it was Dixon throwing an INT to CB #9 Littrele Jones. After a couple first downs it was ASU QB #12 Rudy Carpenter finding TE #88 Andrew Pettes for a score from 8 yards out to make the game 13-6.Oregon responded with a long drive but Evensen would miss the 26 yard FG.
ASU would suffer a blow when Carpenter got injured in the middle of the 2nd quarter. The backup QB would not perform well in his place. He had 2 fumbles lost and an INT in his short time in the game. Carpenter would return at the start of the second half.
The INT came and set up a 32 yard FG for Oregon but the kick was blocked.
That led to the first fumble recovery, and the eventual run from WR #6 Derrick Jones for a TD to tie up the game 13-13.
Then came the second fumble recovery. Dixon proceeded to throw an INT but got relief from the ref with a pass interference call. They ended up getting a 19 yard FG to take a 16-13 lead into halftime.
---
Second Half Oregon's opening drive of the 2nd half ended in a 33 yard FG and a 19-13 lead.
Carpenter responded with a huge 46 yard pass to WR #1 Michael Jones. He was tackled at the two and lost the ball, but the call was reversed as his knee was down before the ball came out.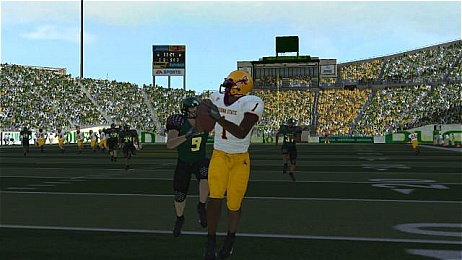 After a loss on first down it was Carpenter finding WR #3 Rudy Burgess for a 6 yard TD and recaptured the lead up 20-19.
ASU would score next as well, tacking on a FG to take a 23-19 lead with 8 minutes remaining in the game.
Then Oregon put together a good drive, which included a 37 yard run from star RB Stewart. However their kicker would miss again, this time from 43 yards out.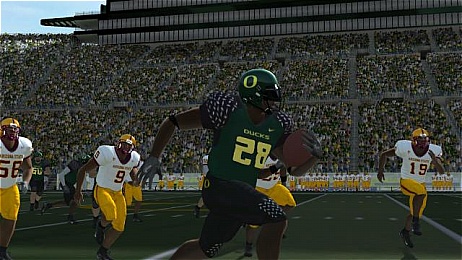 ASU picked up a few first downs and attempted a FG of their own, coming up short on a 48 yarder.
That gave the Ducks an opportunity to drive down and take the lead, which they did after a good mix of runs and passes. It was Stewart who scored the go ahead TD with 1:20 left with the score now 26-23.
However ASU had all three timeouts and did a great job getting down the field while conserving time. They got a couple shots into the end zone but couldn't get it done, so they settled for the 33 yard FG with :14 left to tie it and send it to OT.
---
OvertimeArizona State won the toss and elected to start on defense. Dixon made a big run that got them down to the 2 yard line. From there it was Stewart who punched it in. But once again Evensen missed an extra point wide right.
So it would be up to the Oregon defense to keep ASU out of the end zone.RB #24 Keegan Herring came up with the big play, an 11 yard run that got the Sun Devils down to the 2. After getting stuffed on first down, ASU called a play action and Carpenter was able to find the TE Pettes for the TD. The extra point was good and Arizona State comes away with a huge road win and stays undefeated.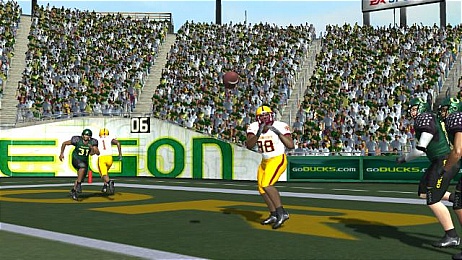 FINAL SCORE: Arizona State 33 – Oregon 32
---
ASU Stats:Carpenter: 22-38-214, 3TD
Torain: 23-113, Herring: 9-23
Burgess: 8-71 TD, Pettes 4-13 2TD, Jones 4-79
James: 11 TKL, Barrett: 11 TKL, Nixon 9 TKL 1 Sack, Jones 9 TKL 1 INT
ORE Stats:
Dixon: 14-23-144 INT
Stewart: 37-143 2 TD, Dixon 12-106 TD
Williams: 7-79
Bacon: 14 TKL 1 Sack, Chung 11 TKL 1 INT, Reed 6 TKL 4 Sacks
GOAT of the game: Oregon K Matt Evensen 2-5 FG, 2-4 EP
Player of the Game: Arizona State QB Rudy Carpenter