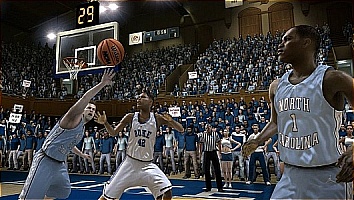 A new interview with March Madness 08 associate producer Novell Thomas has been posted over at IGN. You can check it out in its entirety here.
This entry goes over with the commentary that has been added this year including that of the new sideline reporter Erin Andrews. There is a lot of detail in how they went about recording the audio, what exactly was added, and how it will fit into the game and make the experience better.
There is also a some talk about how ESPN integrates into the game and how Billy Donovan contributed to improving the Dynamic Post Play feature that is new this year.