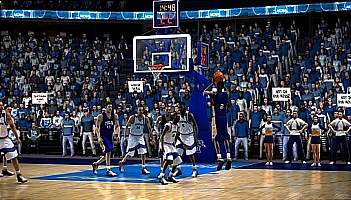 Earlier today we got the a list of (some of) the classic teams in March Madness 08. Now IGN has posted up the top five rated players at each position in the game.
IGN also mentions the release date as December 11th. This coincides with the producer blog that mentioned that date as well. However everything else has stated December 18th. I will try and get confirmation one way or the other. (Update) Right now there appears to be no certainty around whether it will be the 11th or the 18th.
For many more player ratings including the top 20 at each position as well as all individual ratings categories and not just the overalls click here.
Point Guards
Drew Neitzel, Senior, Michigan State 83
Jamont Gordan, Junior, Mississippi State 83
Mario Chalmers, Junior, Kansas 82
Ramel Bradley, Senior, Kentucky 81
D.J. Augustin, Sophomore, Texas 81

Shooting Guards
O.J. Mayo, Freshman, USC, 83
Derrick Low, Senior, Washington State, 83
Stephen Curry, Sophomore, Davidson, 82
Jessie Sapp, Junior, Georgetown, 82
Antonio Anderson, Junior, Memphis, 82
Small Forwards
Chris Douglas-Roberts, Junior, Memphis, 84
Chase Budinger, Sophomore, Arizona, 83
Brandon Rush, Junior, Kansas, 83
Eric Gordon, Freshman, Indiana, 82
Terrence Williams, Junior, Louisville, 81
Power Forwards
Michael Beasley, Freshman, Kansas State, 83
Patrick Patterson, Freshman, Kentucky, 82
Robert Dozier, Junior, Memphis, 82
Jon Brockman, Junior, Washington, 82
Brook Lopez, Sophomore, Stanford, 81
Centers
Tyler Hansbrough, Junior, North Carolina, 83
Roy Hibbert, Senior, Georgetown, 82
Joseph Jones, Senior, Texas A&M, 82
Kevin Love, Freshman, UCLA, 82
Josh Heytvelt, Junior, Gonzaga, 80