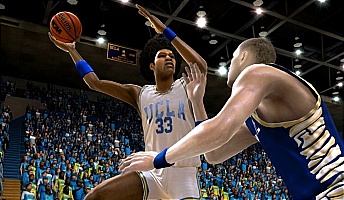 The top 50 rated all-time players in March Madness 08 has been posted by Gamespot. These are overall ratings of the best of the players from the classic teams in the game. If you missed it you can check out the complete list of classic teams here and the ratings of the top current players in the game here.
Clearly the most controversial placing on the list will be Kevin Durant coming in at #2. He had undeniably one of if not the best freshman year of any player in history. However he did only play only the one year which makes it more difficult to justify placing him over some of the most legendary names to have played college basketball.
Also revealed in the screenshots posted by Gamespot is that the teams appear to have their classic uniforms and in the fit style of the times.
I begin the top 50 players below. Continue on to view the entire list.
1. Michael Jordan — North Carolina — 96
2. Kevin Durant — Texas — 94
3. Earvin Johnson — Michigan State — 94
4. Clyde Drexler — Houston — 92
5. Larry Bird — Indiana State — 92
6. Steve Nash — Santa Clara — 91
7. Kenny Anderson — Georgia Tech — 89
8. Chris Bosh — Georgia Tech — 89
9. Richard Hamilton — Connecticut — 89
10. Jamal Mashburn — Kentucky — 89
11. Jason Terry — Arizona — 89
12. Reggie Williams — Georgetown — 89
13. Ray Allen — Connecticut — 88
14. Carmelo Anthony — Syracuse — 88
15. Butch Beard — Louisville — 88
16. Travis Best — Georgia Tech — 88
17. Mike Bibby — Arizona — 88
18. Junior Bridgeman — Louisville — 88
19. Caron Butler — Connecticut — 88
20. Mike Dunleavy — Duke — 88
21. Ben Gordon — Connecticut — 88
22. Chris Jackson — LSU — 88
23. Kevin Jackson — California — 88
24. Jason Kidd — California — 88
25. Christian Laettner — Duke — 88
26. Randy Livingston — LSU — 88
27. Kenyon Martin — Cincinnati — 88
28. Rashad McCants — North Carolina — 88
29. Laron Profit — Maryland — 88
30. Oscar Robertson — Cincinnati — 88
31. Jerry Stackhouse — North Carolina — 88
32. Charlie Tyra — Louisville — 88
33. John Wallace — Syracuse — 88
34. Derek Anderson — Kentucky — 87
35. Keith Bogans — Kentucky — 87
36. Sean Elliott — Arizona — 87
37. Brian Evans — Indiana — 87
38. Art Heyman — Duke — 87
39. Larry Johnson — UNLV — 87
40. DeMarr Johnson — Cincinnati — 87
41. Pete Maravich — LSU — 87
42. Stephon Marbury — Georgia Tech — 87
43. Ron Mercer — Kentucky — 87
44. Andrew Miller — Utah — 87
45. Chris Mills — Arizona — 87
46. Joakim Noah — Florida — 87
47. Ed O'Bannon — UCLA — 87
48. Glen Rice — Michigan — 87
49. Cliff Robertson — Connecticut — 87
50. Dennis Scott — Georgia Tech — 87