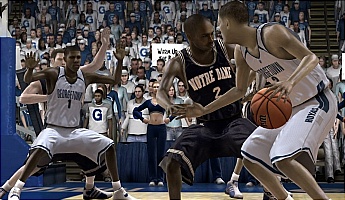 One of the biggest improvements to the March Madness series this year is the Dynamic Post Play. A new producer blog with a gameplay video from IGN and a video breakdown of the feature by Billy Donovan recently came out to go over it in more detail.
The producer blog can be found here. It basically just expands upon what is talked about by Billy Donovan in the video that demonstrates the feature.
Everything about the Dynamic Post Play sounds great, especially having options on the defensive side of the ball. The only thing that I'm a little hesitant about is how often the March Madness team is mentioning that they have slowed the game down. From the videos it does seem a little deliberate to me. It's not really worth worrying about though with the demo due out next Tuesday which will give everyone a chance to get a good feel for the game and see if that is actually something that will feel too slow or if the pacing will represent a more collegiate style of play.
Continue on to view the videos.