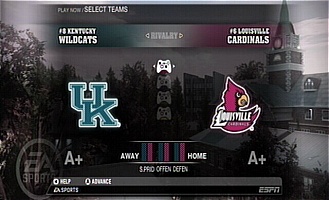 The Xbox 360 Live Marketplace now has the demo for March Madness 08 available for download. As of yet I have not been able to verify whether the PS3 has received it as well.
The demo features Kentucky @ Louisville in a five minute half and comes in at 927.82 MB. You can choose from Broadcast, Classic, Overhead, Sideline, Sky Box, and Floor camera angles. The difficulty level is locked on Varsity.
I will post up a few videos and some impressions of the demo over the coming days. Initially I've come to find many things I really like about it but those are overshadowed by how frustratingly slow the game plays. I'll have to see if that feeling continues as I get more time in with it.