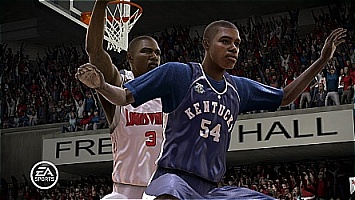 Unless some unforeseen circumstances occur I am expecting my copy of March Madness 08 to arrive today. I should have some time to compile my initial impressions compared to the demo and post a video or two. The demo was disappointing to me however EA has stated that they made adjustments based on the feedback and that will be the first thing that I really look for. I've found in the past that the demos don't always accurately represent how the final version of the game feels anyway.
Over the coming days expect continued impressions and more videos. I'll also try and answer basic questions about the game. Those are going to be things that relate to gameplay, options, player/team ratings, and so on. I won't be going into dynasty mode much if at all and time wise I just won't be able to answer every question that is posed. But feel free to leave comments here or on any of the upcoming postings and I'll try to either answer in the comments or combine a bunch together for a separate posting.
Look for either a status update here (should the game not show up) or the first content in the early evening hours.
9:00PT: Unfortunately the game didn't make it here today. The weather this week has slowed deliveries so that would probably be the reasoning (which was why I was uncertain to begin with). Hopefully it comes on Friday and I'll get right on it.
6:30PT (FRI): The game arrived just now. I'll have time to put up a video tonight but thats it until Saturday.