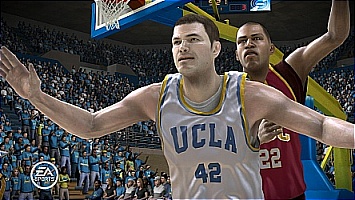 Here is the first full game I played of March Madness 08. Featured is the USC Trojans @ UCLA Bruins. The game was played on varsity difficulty with default settings and 10 minute halves.
So you'll notice UCLA's jerseys immediately because the players all are wearing short shorts. I chose those on accident. The game doesn't tell you which are throwbacks and which aren't. They just state "home" or "away". And since it just shows the jersey and with UCLA's the only difference between the two is slightly larger lettering on one than the other it's kinda lame to have to guess like that.
My time is limited this evening so this may be the only thing I can get up tonight. I got one more game played which will be the next to go up (Oregon @ Washington). I feel like that one played better probably because I started to get more comfortable with the game. That should be posted by the morning and I'll have a lot more coverage including overall impressions, hopefully some online play impressions, and more videos throughout the day.
Continue on to watch the game which is broken down into three videos.