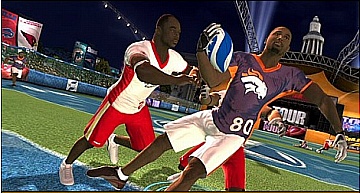 IGN has posted their latest preview of NFL Tour which you can check out here.They have also added the first videos of the two mini-games "Smash and Dash" and "Red Zone Rush" among some other new gameplay ones and a sizzle trailer. The preview doesn't really contain any new info but the videos are worth a look.
At the event I'll be attending next weekend I'll be able to get a lot of the questions about the game answered along with basic impressions. Before I leave for that I'll post up the initial list of questions that I have prepared and see if anyone would like to add to it. The most important thing I'll be able to speak on afterwards is how much fun I thought the game was, which isn't something you can really determine just from reading a preview or even from watching a few videos.
Continue on to view the videos.