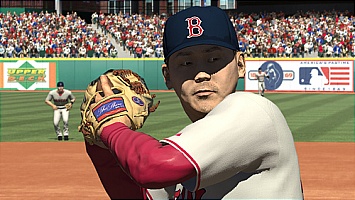 Yesterday brought the first screenshots and the official fact sheet that listed all of the features for the upcoming MLB 08: The Show on the PS3. Later in the day the official Playstation Blog hosted a write-up from the Director of Production for the MLB series Chris Cutliff. Three additional screens were released and you can find them now in the gallery.
The blog posting which you can check out here mainly focused on the work they've done graphically for this year's title. Certainly the remarkable improvement is immediately seen when comparing the new screenshots to 07's. The graphics were widely regarded as disappointing (one of the few things about the game that was) but it appears that won't be the case again. He also teased future write-ups on many of the features that were just revealed.
The announcement of the cover athlete should be coming soon, possibly even by the end of the week. My immediate thoughts after seeing the first batch of screens (all from the World Series Rockies vs Red Sox matchup) was that the player would probably be coming from one of them. Matt Holliday or Josh Beckett? Please just no more players from New York teams!