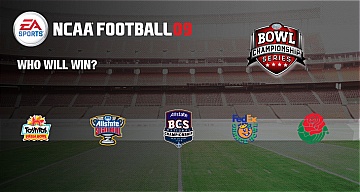 Yes, its still December, but the website for EA Sports NCAA Football 09 has just gone live. Reachable through BCSPreview.com as well as easports.com the site currently features previews of the upcoming BCS games using the NCAA Football engine.
Following the Bowl season the site will fully transition into NCAA Football 09 mode. It is worth noting that EA has never launched a site for a game this far in advance of its release.
Interestingly it appears that the cover announcement may be coming a lot sooner than expected as they are already teasing it. It is unknown how soon following the end of the season that could be revealed considering some of the top candidates would be underclassmen who would need to declare for the draft. I'll be previewing the most likely choices for the cover sometime over the next week.