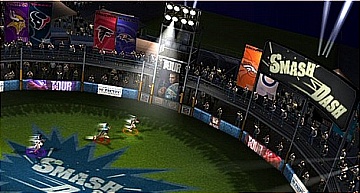 Gametrailers has posted up seven new producer videos going over aspects of NFL Tour. Some of the things discussed are the overall story and concept behind the game, the controls, single player Tour mode and create-a-player, the game's presentation and graphics, the two mini-games, and the Smash Meter.
One thing I would say when looking at the gameplay in the vids is I would recommend bumping up the difficulty level one higher than the default. It forces the action a little more because the defensive line gets pressure faster and it isn't as easy to break so many tackles. It just balances things out a little better.
Also check out the recent content posted coming out of the NFL Tour event including my impressions and my evaluation of the NFL teams and how well they translate to Tour. You can also read a recap of the actual event on the Tour website by going here. The picture included (which you can check out by clicking the thumbnail below) has me mostly blocked out by Shanker from SportsGamer, though I went on to wax him in that game and that's all that matters.

All seven of the videos can be viewed by continuing on.