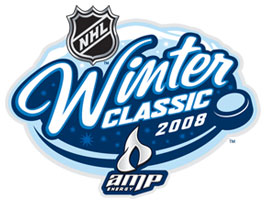 After the recent success of the New Years Day Winter Classic which was played outdoors between the Penguins and Sabres, the sport (at least temporarily) is back in the consciousness of general sports fans and more casual hockey fans. The ratings for that game represented the biggest viewing audience since 1996 and was played in front of over 70,000 fans. It was made into an event, and it seems likely that the NHL will be taking advantage of that interest and introduce them on a more regular basis in the future.
So this would seem to be a perfect opportunity to capitalize on outdoor hockey. Played out in the elements with more simplified controls and gameplay along with the arcade edge. Have only a couple players on the ice at a given time to keep the pace and excitement up. There could be venues to be played at such as open stadiums, lakes and ponds.
As highly touted as NHL 08 has been, sales expectedly pale in comparison to other sports. When you look at hockey games the appeal tends to be limited to hardcore hockey fans. However having experienced the popularity of hockey gaming in the 90s the interest has always been there just not in the package of the intensely simulation style games that both EA and 2K release right now.
So what do you think? Vote in the poll and leave your thoughts in the comments.
{democracy:9}