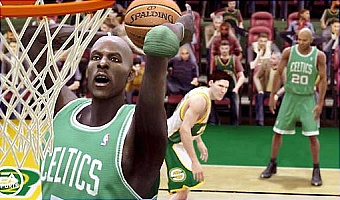 The Online Team Play update for the Xbox 360 version of NBA Live 08 was released earlier today. After a premature press release in mid-November and the PS3 version receiving the patch a few weeks ago, the 360 crowd has finally received the ability to play with up to 10 different consoles connected into a single game.
It certainly appears that it will have been worth the wait. Initial reports from the PS3 side have been very positive. There has also been overwhelming enthusiasm towards the OTP in FIFA 08.
Some of the details of Online Team Play:
-The game mode allows for any combination from 1 vs 1 up to 5 vs 5. It can be any combination not requiring the sides to be balanced.
-You can set it to be locked into individual players or you can allow for player switching. You're only required to be locked into a player if you have four live teammates.
-The CPU will take over any players not being manually controlled.
-Voice communication is available and is isolated so that you are communicating only with your teammates.