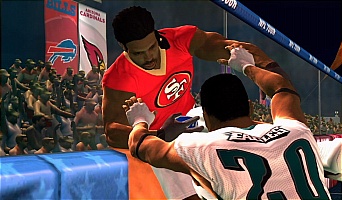 With NFL Tour now released I thought it would be beneficial to link to all the prerelease coverage of the game and give a few final thoughts.
Tour is a fun multiplayer game and one that I've already spent more time playing online and head-to-head than some of the "sim" games from the last year. The single player Tour mode feels tacked on and lacks any depth but the game was always meant to be more about the multiplayer experience.
As I've played more I've started to get better on defense. Lately I've been having success getting an interception in nearly every game, something I wasn't really able to do early on. I've also picked up on using the strip button a little more but still have only found minimal success with that. I think one way that the game could've been better is if turnovers were a little easier to force. It is frustrating making a great play on the ball but having the defensive player just flat out drop a would be interception, when that may end up being the only chance you get all game and could've made the difference in the outcome.
Online wise the game plays smooth and consistent. Through 15 games I have yet to experience any lag which is a pleasant surprise. The shorter games cut down on the likelihood of disconnects as well and I haven't had a single one to date. It is disappointing that you can't change the rosters for online, that there is no co-op, and that the game lacks any EA Sports World integration. Despite those things the online games tend to be really competitive and only take 10-15 minutes which combined with the good performance has made for an enjoyable time.
A wishlist is being put together for a potential follow-up to Tour. Leave any suggestions either as comments or in the forum thread. I'll be posting up the finalized list in the near future.
Below are the links to the prerelease original content.
Highlight video
Game videos: Bears vs Vikings, Three full games, Eagles vs Browns (H2H)
Game and online options
Online Impressions
Hands-on game impressions
Ranking the teams
Online tournament and results recap