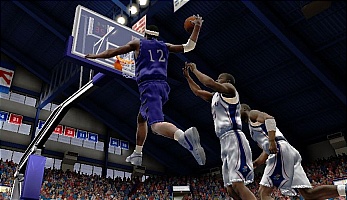 A couple weeks back I wrote an article taking a look at the sales of College Hoops 2K8 and March Madness 08. One statement I made had to do with the future of the College Hoops series, which from the sales numbers and current state of parent company Take Two, seemed to be up in the air. Sales of college basketball games did not appear to support two titles long term and given the circumstances that would mean College Hoops was potentially in danger. You can read that article with all the reasoning behind it here.
Today Kotaku got confirmation from 2K Sports that the College Hoops franchise will be no more.
2K Sports has decided not to continue negotiations with the CLC for the license for its top-rated College Hoops franchise, which would have been released next in November 2008. We are committed to providing fans with high-quality, critically-acclaimed sports games, but given our disciplined approach to the business, we do not believe the current discussions would result in an acceptable outcome.
There has been nothing yet to suggest there is any type of exclusive licensing deal in the works here. The companies have to pay for the rights to the licensing even if there is no exclusivity. It appears that financially it just didn't make sense for 2K to re-up with the NCAA.
This is certainly disappointing for fans of the series as it had become arguably the most polished and true to the sport basketball title. However the sales just couldn't justify the cost of production here. With the combination of having a competitor in a market that didn't have enough sales to spread between the two and the financial struggles of Take Two the College Hoops franchise was clearly the one on the chopping block.