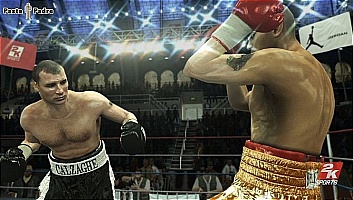 Don King: Prizefighter has been added into the Gamestop/EB database and is listed with a tentative release date of Tuesday April 1st. While this isn't a confirmed date generally it is a good indication when a game is added in this close to its proposed release window. Prizefighter was expected to be released in April it was just unknown what Tuesday it would fall on.
The 360 version is listed at $59.99 and $29.99 for the DS. In what must be an error (and it was, it has since been updated to $49.99) the Wii version it has been posted up with a $19.99 price.
Whether or not this date of 4/1 sticks we may not know for some time. There is unlikely to be much in the way of news or media until after MLB 2K8 releases in early March and promotion for that game hasn't even geared up fully yet (the official website has yet to be updated). With the leaked screenshots of Prizefighter it pushed 2K into a situation where they had to respond with two screens from a more recent build which they probably weren't planning on doing otherwise.
So it'll be worth monitoring the release date in the near future to see whether it changes and where other retailers place it as they enter it into their systems. Hopefully 2K will come out soon and state the date definitively.
Update 2/2: The date has been moved back to 5/1 on the websites. Since that is a Thursday it is a sign that there is no set release date for Prizefighter yet and that it probably won't be out early-mid May or later.