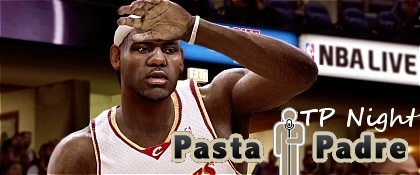 This evening brings the first PP NBA Live 08 OTP night (360) and thanks to the voting we have the matchups for the two scheduled games. The time to be there is 5pt/8et with the first game starting up promptly (even if not completely full).
Head to the user created room pastapadre and the password will be OTP. From there I will create the game and send invites. I believe I'll have to invite from my friends list so once in the room and situated send me a friend request if you aren't already on my list. At that point the other nine participants for the game will be determined (first come first serve basis). Anyone who makes it in late is of course free to run another game.
Based on the voting the games for the evening will be:
Magic @ Celtics (approximately 5pt/8et)
Mavericks @ Suns (following the end of the first game)

The games will have six minute quarters with the other settings being the defaults. Each user will be locked into a specific player and don't attempt to lay claim to one or even a team beforehand. Don't join into the game unless you can dedicate the time to completing it and can live with controlling anyone on either team.
I will be recording at least one game (if not both) and posting the videos on the site with a recap for Saturday morning. Gamertags/players controlled and stats will be taken down.
Another OTP night will take place at the same time tomorrow. Again I've created a poll with several options of potential matchups that seem interesting and aren't too heavily slanted to specific superstars. Continue on to vote in the poll.
{democracy:12}