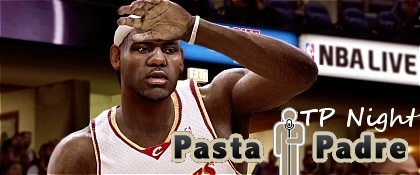 Another two games of NBA Live 08 OTP will be played tonight and after the success of the first night I'm really looking forward to it. The games were a lot of fun and it was nice to have some teamwork and ball distribution to go along with no lag to speak of. The six minute quarters seemed to be the right length as well. Just a great experience all around. Both games had 3 users on each team with the other two players controlled by the CPU. Thanks to everyone who participated.
Tonight the two matchups based off the voting will be:
Nuggets @ Spurs (5pt/8et)
Trailblazers @ Hornets (following the completion of the first game)
I'll be recording one or both of the games for posting by Monday. Follow the same procedures as the first night. Continue on to read the two game recaps and stats as well as a full game video broken down by quarter.

Magic 96 @ Celtics 117
This was a tight game going into the fourth quarter when Boston outscored Orlando by 17. Too many easy buckets were given up and when the Magic tried to clamp down on that in the fourth that's when Ray Allen and Paul Pierce started hitting threes and the Magic just couldn't match that offensive output. Boston's big three was just too much. This game was recorded but I had difficulty getting it uploaded.
Celtics
Ray Allen (Elmira Express) 32 pts, 23 ast, 2 rbs, 1 stl, 12-16 fg, 8-10 3pt
James Posey 9 pts, 2 ast, 3 rbs
Paul Pierce (Hells Hurrican3) 40 pts, 5 ast, 3 rbs, 19-35 fg, 2-5 3pt
Kevin Garnett (Darthvader1981) 28 pts, 5 ast, 6 rbs, 11-16 fg
Kendrick Perkins 8 pts, 14 rbs
Magic
Dwight Howard (Raczilla) 14 pts, 4 ast, 12 rbs, 7-12 fg
Rashard Lewis (Pastapadre) 29 pts, 2 ast, 6 rbs, 4 blks, 10-24 fg, 3-7 3pt
Hedo Turkoglu 20 pts, 1 ast, 3 rbs, 8-12 fg, 1-2 3pt
Jameer Nelson (Da Birthday Boy) 24 pts, 13 ast, 2 rbs, 1 stl, 11-20 fg, 2-3 3pt
*Missed writing down other player*
Mavericks 110 @ Suns 109
In the second game it felt like everyone involved settled in a little better and had gotten more comfortable with OTP. This one was played a lot cleaner. The Suns forced the aggressive Mavericks into foul trouble early and that plagued them the entire game. Dirk Nowitzki picked up his fourth foul early in the second quarter and ended up only playing a total of 11 minutes. Josh Howard fouled out in the third and Erick Dampier in the fourth. Again though it was the road team winning the fourth quarter but this time only by three points however it was just enough. They may have gotten in the heads of the Suns players after the collapse in game one. Josh Howard had a huge game before fouling out and then Nowitzki came in late and made some critical buckets. For the Suns it was a great performance by Shawn Marion that kept them in it.
Mavericks
Erick Dampier (Darthvader1981) 14 pts, 11 rbs, 3 blks, 7-7 fg
Dirk Nowitzki (Darthvader1981) 19 pts, 2 rbs, 9-16 fg
Josh Howard (Hells Hurrican3) 34 pts, 5 rbs, 2 stl, 16-31 fg
Jason Terry (Elmira Express) 17 pts, 8 ast, 2 rbs, 2 blk, 4-11 fg, 3-7 3pt
Devin Harris 1 ast, 3 rbs
Jerry Stackhouse (Hells Hurrican3) 17 pts, 7-16 fg, 2-7 3pt
Suns
Amare Stoudemire 21 pts, 4 ast, 4 rbs, 9-13 fg
Shawn Marion (Raczilla) 43 pts, 1 ast, 18 rbs, 1 stl, 19-24 fg
Grant Hill (Pastapadre) 1 pt, 1 ast, 1 rb, 0-3 fg
Raja Bell 3 ast
Steve Nash (Da Birthday Boy) 23 pts, 14 ast, 2 rbs, 8-17 fg, 2-8 3pt
Leandro Barbosa 5 pts, 2 ast, 3 rbs
Boris Diaw (Pastapadre) 16 pts, 5 ast, 9 rbs, 6-19 fg

PP OTP Night: Mavs @ Suns Q1 from pastapadre on Vimeo.

PP OTP Night: Mavs @ Suns Q2 from pastapadre on Vimeo.

PP OTP Night: Mavs @ Suns Q3 from pastapadre on Vimeo.

PP OTP Night: Mavs @ Suns Q4 from pastapadre on Vimeo.